BRIGHT MOTOR INN
Nestled in amongst 100-year-old trees, Bright Motor Inn is the best located motel in Bright, the No. 1 address on Brights' famous Delany Avenue. The Motor Inn is next to the beautiful Centenary Park and backing onto the Ovens River and offers the discerning traveller or group fully serviced affordable accommodation in the heart of Bright.
Within easy walking distance to restaurants, street cafes, the Bright Brewery, speciality stores and the heart of the town, the Bright Motor Inn has a number of different accommodation options available and is renowned for its warm hospitality and that little bit of extra service. The Bright Motor Inn is the ideal location for the travel stopover, as a base for a family holiday or for travel groups.
---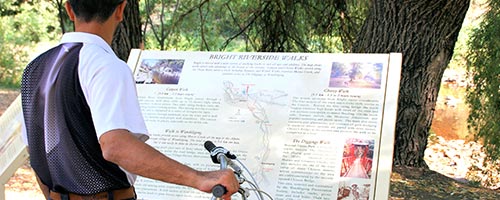 Visiting Bright
Bright has many quaint and unique shops offering everything from gourmet homemade chocolates to handcrafted outdoor furniture. Speciality gift shops, footwear, clothing and toys to suit any age and any taste.

Here in Bright we have a hardware, grocery and chemist shops and the NAB, ANZ, CB and Bendigo banks are also located within walking distance to the Bright Motor.
Find out more about things to see and do in Bright.
Our Accommodation
At the Bright Motor Inn we can cater for the large family, small groups, bus groups, couples and the single traveller at an affordable rate.
Our rooms are configured to accommodate doubles, singles, twin share and families. We have 17 units and 1 apartment that are on ground level making it easy access for seniors and those with restrictions.